About PK Photography
At PK Photography, we bring professional photography to non-professional events. We don't think Lance Armstrong should be the only cyclist with great pictures of himself. Everyone deserves to get a shot of themselves in the middle of intense racing action. Every picture we take is unique, and strives to capture the essence of the athlete.
We shoot lots of sports, not just cycling, but because we started with cycling photography, it is still our favorite.
We contribute regularly to Stanford Athletics photography, with numerous photos appearing in Athletics media guides and online at gostanford.com, the official website of Stanford Athletics. We shoot all kinds of sports at Stanford, from football to baseball, water polo to basketball, volleyball to tennis, and many many more!
Our work has appeared in the following publications:
Sports Illustrated
San Francisco Chronicle
Palo Alto Weekly
gostanford.com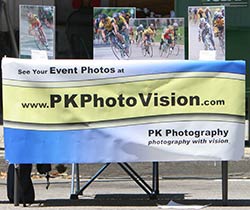 Contact Us
Feel free to email us comments about the images, our website, or pricing levels. We are always looking to make our site and images better. Also contact us if you want special pricing for bigger team orders or bulk deals.
Individual/Team Photography
For those of you in the San Francisco Bay Area. If you or your team is interested in hiring our skills for a particular race, please contact us via email. We can arrange to take pictures exclusively of you, or your entire team, during a particular race. Price will depend on how many shots you want and what you would like to use them for, but we are very flexible. Please do contact us to see what can be done. This is a great way to get shots for your website or for sponsorship requests/updates. For teams, this is a nice benefit that you can provide to your team members, and a good incentive for them to hit the local USCF/NORBA racing circuit.
How do I get pictures taken of me?
There are two ways. First, you can get us to come take pictures of you exclusively for an entire race, as mentioned above. Second, you can put the hammer down to stay at the front of the pack all day. Typically, people in the front of the field will get more pictures taken of them than anyone else. So, for more pictures, you just have to work a little harder!
Our Equipment
We use high quality Canon digital SLR cameras (not your average point and shoot camera) along with Canon and Adobe image processing software. All images are optimized (color balance, sharpening, focus of picture on person of interest, etc) before sending them to a professional print house for printing on high quality Fuji Crystal Archive paper. We have carefully chosen this printing company as they provide fast, high-quality, and extremely consistent service.